The Sisters of St. Joseph
HerStory | The Petruziello Sisters
Felicia and Rita Petruziello
The school-aged sisters were inspired by
the humor and humanity of the Sisters
who taught them.
In a neighborhood filled with people of all different shapes, sizes, and colors;
two small girls grew.
The sisters lived with their parents and grandmother. The family were caretakers and took in those who needed help — most suppers there would be a new face at the family table.

When the girls were old enough to go to school, the nuns who taught them weren't quite what they expected. Instead they were more like their mother and grandmother. The Sisters were funny, human, and making a difference in the lives of the two sisters and the children with whom they worked.

When the sisters grew up, they wanted to do as the great women in their lives had always done. They wanted to care for the poor and help to make their community—and maybe even the world—a better place. The two sisters decided to become, well, Sisters!
These sisters, emblazoned with purpose and passion, were Felicia and Rita Petruziello.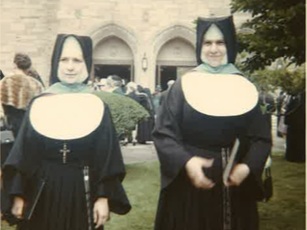 Felicia and Rita Petruziello
The sisters were emblazoned by passion and purpose and became Sisters!
Felicia became a Licensed Clinical Therapist and started the Wellness Center at the Congregation of St. Joseph in 1989. She soon realized that the location of the Center was difficult for the poor to reach. It was time to expand the Center to reach the areas where there existed the most need. This was the beginning of the Women's Outreach Center located at Franklin Circle Church.
Rita joined Felicia and the two Sisters worked with others to map out a new ministry called River's Edge.

The Sisters' vision was to make River's Edge the best of what the Congregation
had to offer: hospitality, peace and justice, wellness, a new consciousness,
and service to the poor.

River's Edge was born in 2005 and joined with the Women's Outreach Center to become one. Together the Wellness and Spirituality Center and the Women's Outreach Center have been helping thousands of people each year find wholeness, healing, and personal transformation.
A New Era
2019 ushered in many exciting changes: a new facility, a fresh brand, up-to-date technology, and a clear plan for expanding our reach and the River's Edge Community. We are prepared to launch a new era — bringing innovation to the two Sisters' original mission and vision.
We invite you to be part of the story as we start a new chapter!

Your participation in the River's Edge Community helps us keep the story alive as we work to bring healing and wholeness to all members of our community
who can be witnesses of this new paradigm in world. There are many ways to get involved: take a class or sign up for a program, attend a guest speaker, donate, and/or volunteer.